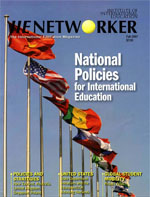 Kazimierz Bilanow, IEE Networker, Fall 2007
To say that Poland is at the forefront of international higher education would be an overstatement. Unlike the U.S., where the President and the Senate declared support for student mobility, or the U.K., where Tony Blair announced his Prime Minister's Initiative and the Minister of Education urged universities to work towards internationalization, no prominent Polish politician or public body has publicly addressed the matter.
This is not to say that Polish authorities, especially those responsible for higher education, have a negative attitude towards the internationalization of higher education; they had other pressing priorities. After the doors to higher education opened in 1989, the government no longer set quotas restricting how many young Poles could become doctors, lawyers or engineers and higher education was in bigger demand than anybody imagined. In addition, Poland experienced a baby boom in the late 1990s and the number of students grew from half a million in1992/93 to two million in 2005/06. It became evident that public universities did not have the capacity to meet the new number of students and the government focused its efforts on meeting this need. In September of 1990, the government passed a new law permitting the establishment of private schools in an effort to remedy the shortage of schools. The private sector quickly responded and Poland today has over 300 private institutions enrolling over 600,000 student.
Until quite recently, everybody involved in higher education in Poland felt confident. Enrollment in private schools was growing; public universities – where tuition is still free for most students – were still making money by offering night classes or special courses for a fee. With the surplus of Polish students there was little incentive to attract foreign students. Now, however, the climate has changed. The baby boom generation graduated and, since joining the European Union, Polish institutions now compete with universities in other EU countries for students. Furthermore, Young Poles, eager to take advantage of the new situation, are enrolling in British, German or Scandinavian universities by the thousands. Recruiters from as far away as Australia and China show up at education fairs in Poland.

Unfortunately, there are far fewer international students studying in Poland than there are Polish students going abroad. With only 10,000 international students, (1,989 from Ukraine,1,305 from Belarus, 749 from the U.S., 739 from Norway and 154 from China), Poland has the fewest number of international students among the OECD countries. The Socrates Erasmus exchange programs reveal that for every four Polish students going abroad only one exchange student comes to Poland.

These changes have not gone unnoticed. Over the past three years awareness of the need to internationalize higher education in Poland has grown. As the Polish government has been slow to act, The Conference of Rectors of Academic Schools in Poland (CRASP), an organization of university leaders, together with the Perspektywy Education Foundation, implemented a multi-year program to promote Polish higher education abroad called "Study in Poland" in May 2005. Organizing conferences and encouraging international educators to attend higher education fairs, this program plays an important role in providing information on higher education markets, and in helping universities to get access to these markets. Presidents and ranking officers from over 80 Polish universities attended the conference held in February 2007.

In addition CRASP encouraged universities to offer programs and courses in English. Today all leading schools in Poland teach courses in English, and broaden English course offerings each year. Warsaw University alone will offer seven new programs taught in English in the Fall 2007 semester. Several medical and business schools have taught programs in English for a number of years.

The Polish government has increasingly taken steps to address the importance international education. In fact, the latest proposal prepared by the Ministry of Science and Higher Education names increasing the exchange of students and academics as its third priority, behind initiatives to increase quality of higher education and implement the Bologna process. The government's most significant contribution to internationalization of higher education is its commitment to the Bologna process. The government financed Foundation for the Development of the Education System (Fundacja Rozwoju Systemu Edukacji), which administers the Socrates and Erasmus programs, plays an crucial role in this student exchange within and outside Europe. The government also established the Bureau for Academic Recognition and International Exchange (Biuro Uznawalności i Wymiany Międzynarodowej) to serve in the ENIC (European Network of National Information Centres for academic recognition and mobility), and the NARIC (National Academic Recognition and Information Centre) networks which facilitates the recognition of diplomas and the exchange of international students and academics.

The Polish government has also given special attention to members of the Polish Diaspora, especially to those who live in countries of the former Soviet Union and are descendants of those who were forcefully deported during the Stalinist era. Students with Polish ancestors, who are already enrolled in higher education in their home countries, can apply for Polish government scholarships enabling them to attend universities in Poland. There were 3,723 international students of Polish origin studying at universities throughout Poland in the 2005/06 academic year.

While Polish students living abroad have relatively easy access to visas and enrollment in Polish universities, it is not so easy for students from countries outside the European Union. For one thing, Poland has yet to introduce a student visa. Students, therefore, must apply for a regular resident's visa which does not allow them work, even temporally. This significantly limits Poland's attractiveness as a study destination. The Ministry of Foreign Affairs, however, is currently reviewing a comprehensive proposal on students vistas submitted by Warsaw University.

Though Poland may not have perfected its official policy on the internationalization of the country's higher education, its university leaders are aware of its importance. The ability to attract foreign students is now seen as a proof of university's competitive position on the education market. Polish institutions are not only taking part in the EU's European Higher Education Fairs (EHEF) program, aimed at promoting European higher education at international education fairs in a number of countries in Asia (China, India, Thailand, Malaysia), but are also increasingly active in Europe and in neighboring Ukraine and Russia, and are looking to increase the number of U.S. students studying in Poland. In order for Polish universities to continue their proud tradition of higher education dating back to 1364, they need to recruit foreign students to balance international exchange and compensate for decreasing number of Polish students.

Kazimierz Bilanow, Ph.D. is Coordinator of International Events at Perspektywy Education Foundation.