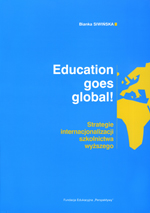 Bianka Siwińska, Warsaw 2007
Education Goes Global is the first book on internationalisation of higher education and its global context published in Poland. It compares and discusses experience of several countries and provides a body of basic facts on the subject. The prime purpose of the book is to stimulate public debate on challenges of internationalisation facing higher education in Poland and to provide wider international background for such a debate.
The main part of the book consists of a case study on internationalisation of higher education in Germany. The author spent two years in Germany attending numerous seminars and conferences at the Humboldt University and Free University in Berlin and interviewed dozens of officials in institutions responsible for internationalisation of higher education in Germany. While discussing the process of internationalisation in Germany the author points out and describes those positive solutions and best practices that can serve as inspiration for Poland in this country's quest for a way to successfully internationalise its own thirdary education.
Analysing the German example, and in a narrower scope examples of United Kingdom, Australia and two Asian countries: China and Malaysia, the author tries to identify factors that contribute to a break through in the process of internationalisation and help speed the process up. She also attempts to pint point the stage of the process when the idea of internationalisation no longer is a subject of concern of individual higher education institution but becomes a subject of a co-ordinated policy on the national level.
The subject of internationalisation of higher education is particularly important in Poland as the country has not yet developed a comprehensive strategy in this field. There is an urgent need for such a strategy and the author hopes that her book will serve as a useful tool in the future discussion on internationalisation of education.
Education Goes Global is the first book in the planned Study in Poland mini library that through series of publications will provide those concerned with a necessary knowledge on practical, political and strategic aspects of internationalisation of higher education both on national and global scale.